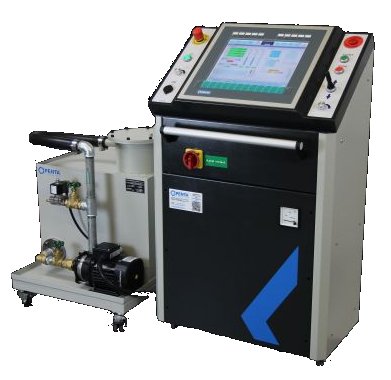 MINI DIE-SINKING PENTA
The simple and fully functional design of the most affordable mini die sinking allows everyone to take advantage of EDM technology. The Czech product, a CNC mini die sinking EDM with the German control system BECKHOFF, is a great choice wherever small molds and workpieces (e. g. buttons, coins, medals, etc.) are manufactured and repaired, or for local eroding of shapes into any mold. It can also be used for start holes drilling or removing broken tools.
PRODUCTS DESCRIPTION AND MAIN BENEFITS
The modular solution offers 3 variants, namely MINI S, M and L. All variants have the functions of a full-fledged PENTA CNC control system with user-friendly control, modern design, quality and powerful generator and planetary options.
PENTA CNC – MINI S  We simply connect the control system and generator to your existing machine – e. g. stand drill, milling machine.
PENTA CNC – MINI M We supply a complete solution containing a PENTA CNC control system and generator, a filter device, a holder with the X, Y axes movement (manual or motor) and a working tank.
PENTA CNC – MINI L We will make a modern CNC die -sinking from your older manual machine or low-performance ZNC die – sinking. The MINI L solution contains a PENTA CNC control system and generator, and we will put it into operation at your place without the need to relocate the machine.
STANDARD ACCESSORIES​
Control box with generator
Control system
Filtration system (applies to MINI S and M)
Z axis control by AC servomotor
ON DEMAND

Stand for precise guidance
X, Y axis feed motors
Clamping table
Work tub
Standard clamping systems (Hirschman, Erowa, 3R, ER collet)
High pressure pump for EDM drilling and rotary axis
Connection to automation, remote monitoring
External additional measurement
Remote control