GRAPHITE
Penta Trading is the exclusive representative of SGL Carbon for the Czech Republic and Slovakia.
SGL Carbon unique graphite are in demand in various industries such as automotive, aerospace, and solar and wind energy industries.
Graphite quality Made in Germany!
We supply graphite not only in blocks, but also in left over in the size according to the customer's wishes,
in express terms with delivery within 24 hours. In addition, we can make any complex electrode for you based on the supplied model in any holder (Hirschmann, Erowa, 3R, etc.).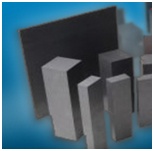 GRAPHITE PROPERTIES
Due to its specific properties, graphite is an ideal material for the production of electrodes. Compared to copper, it has the advantage that it is much easier and faster to process, has a much lower weight and is significantly cheaper. In addition, it is able to remove much larger parts from the processed material, which speeds up production. An indisputable advantage of graphite is also that its properties do not change over time, and therefore it can be stored for an essentially unlimited time.
GRAPHITE TYPES
Universal graphite (e.g. R8500 or R8510) is in turn suitable for the production of electrodes of simple as well as more complex shapes. So-called finishing graphite with an ultra-fine grain (e.g. R8650 or R8710) is then used for finishing work and the production of electrodes of more complex shapes. Different types of graphite with different roughness are therefore perfectly adapted to the requirements for processing the material. If graphite is chosen correctly, the best results are achieved with it. In general, it can be said that the finer the graphite the electrode is made, the less it wears and the resulting surface roughness (Ra) of the machined material is smaller. However, the amount of material that can be removed from the workpiece at once decreases proportionally.
R8340 – roughing graphite (Ra max. approx. 4.5 µm)
R8500 – universal graphite (Ra max. approx. 2.24 µm)
R8510 – universal graphite, greater density and bending strength, easier to process (Ra max. approx. 1.6 µm)
R8650 – graphite with a fine grain, which is intended for milling demanding shaped electrodes and ribs (Ra max. approx. 1.12 µm)
R8710 – ultrafine graphite, which is intended for milling shaped electrodes and ribs (Ra max. approx. 0.4 µm)
R8650cu and R8710cu – special types of graphite mixed with copper; their advantage is very little wear in the radiuses
FOR MORE INFO CONTACT OUR SALES REPRESENTATIVES